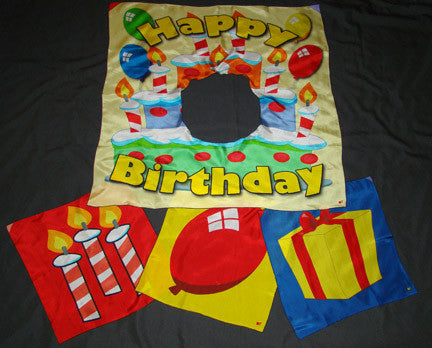 ---
Top three reasons magicians and clowns are hired for birthday parties. Children LOVE magic, everyone loves cup cakes, and Mom's love baby sitters!
Top three reasons birthday entertainers are remembered. No one else dresses like that, the animal smell never goes away, and great photos of you with the kids end up on facebook. Hole-y Birthday Party Blendo gets you remembered without the smell.
Comes with three 15-inch Wonder Imagery silks of the top three things every party needs; balloons, candles, and gifts. The three silks, child's magic, and Mom's camera brings it all together into a photo of the child's smile beaming through the hole in the middle of the 30-inch blendo silk. Of course your face is just above the silk smiling about the memories you're making.
Top three reasons this product is better than any cheap blendo on the market. Ok, there's more than three reasons. The hole is perfect for photos of you with every child in the room. Don't forget a picture of Mom. The quality of Wonder Imagery silks in unmatched with any other silk in the world. The art is original and modern. The methods for the switch are unlimited. And it comes with presentation ideas and tip from some of the top children's entertainers in the world.
---
Share this Product
---
More from this collection
Liquid error (layout/theme line 368): Could not find asset snippets/spurit_uev-theme-snippet.liquid