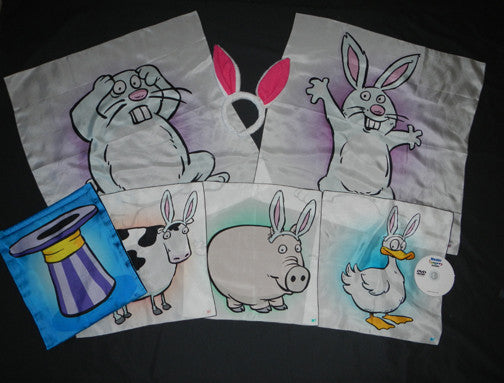 ---
| | |
| --- | --- |
| | |
| Tim's Routine | Steve's Routine |
 Imagine a rabbit. Did you think of the ears first? Of course you did. A rabbit isn't a rabbit without the ears. So if we put ears on a duck it should pass for a rabbit right? That's what your audience of young helpers will advise you on as you hunt for a substitute rabbit. This super fun Wonder Imagery silk set includes a pig, cow, and duck all trying out for the role of rabbit. You even get rabbit ears for your helper to wear but no one has what it takes to be a rabbit. They don't have the MAGIC. Place all the tryouts in your bag along with the helper ears and do a little magic of your own and ta-dah! Your imagined rabbit appears. Comes with . . . all necessary silks, two routines from Tim Sonefelt and Steve Wronker and background music.
Picture shown with our Top Hat Rip Apart Change Bag, sold separately.
Explanation & Handling Video: 
Download Background Music HERE.  
---
Share this Product
---
More from this collection
Liquid error (layout/theme line 368): Could not find asset snippets/spurit_uev-theme-snippet.liquid