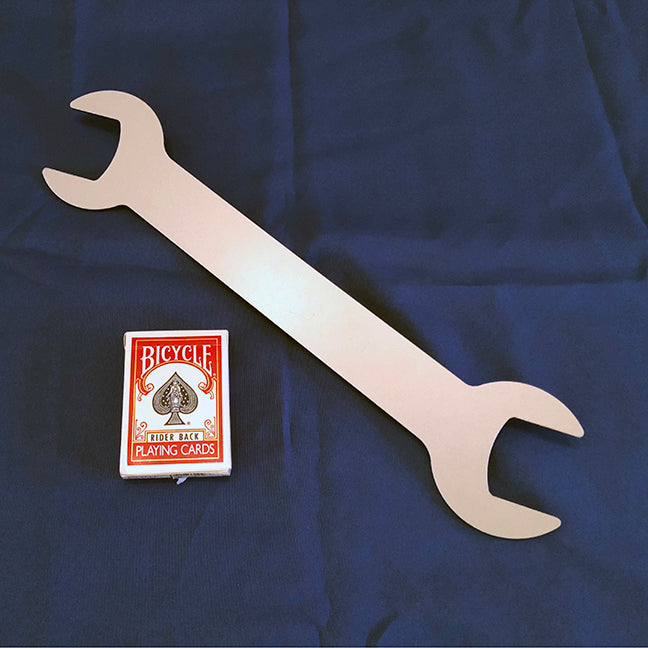 ---
A magician asks a child to step onto the stage to help him. He welcomes the child by shaking hands. The hand, the whole arm seems to wobble terribly. "Your arm is very loose, let's tighten it a bit". The magician produces an oversized wrench and starts to tighten the child's arm, which produces a terrible creaking noise. The child, surprisingly, is not frightened but squeals with delight. The child's arm is shaken again: "Okay, that's better now." A bit later, the magician's table is in the way, it is moved aside. Oh dear, it's wobbly, too! "I think we should tighten it as well". Again, the giant wrench is used; again there is a terrible creaking noise. The magician opens his magic suitcase which squeaks and is tightened with a lot of noise.
Since we have started using this wrench, we have had lots of ideas: You go on stage, position the microphone at the right level, it collapses and is screwed together with a creak. You are limping, take off your shoe and out comes a big stone (made of foam). Now, quickly readjust the leg back to right length with the "arthritis wrench" and a loud creaking noise. The music is too loud or to low? Use the wrench to set the sound equipment to the right sound level. Present the twisted hands gag? Tighten the arm or elbow joint with a groan and a creak afterwards.

Perfectly and durably finished, easy to transport, easy to use, and far superior to any "Watch Winder".
 (Cards not included - shown for size comparison.)
---
Share this Product
---
More from this collection
Liquid error (layout/theme line 368): Could not find asset snippets/spurit_uev-theme-snippet.liquid